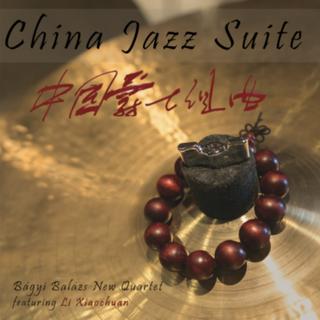 A "jazzügyi előrelépés" keretében, Magyarországot képviselve, már jónéhányszor járt Kínában a nagyszerű dobos, zenekarvezető, komponista, Bágyi Balázs, aki a Magyar Jazz Szövetség elnöki posztját is betölti. Látogatásai hatására a múzsa homlokon csókolta, így aztán megszületett legújabb műve, a China Jazz Suite!
Júliusban stúdióba vonult a Bágyi Balázs New Quartet, hogy rögzítsék "brand new" albumukat, a China Jazz Suite-et, amely most látott napvilágot a Tom-Tom Records gondozásában.
A zenekar tagjai továbbra is a hazai jazz szcéna meghatározó alakjai; Soso Lakatos Sándor (altszaxofon), Oláh Dezső (zongora), Oláh Péter (bőgő), és természetesen Bágyi Balázs (dob). De, hogy még inkább stílusos legyen a dolog, Balázs egy nagyszerű kínai trombitás-szárnykürtöst, Li Xiaochuan-t is maguk mellé szólított. Nem először teszi ezt, hiszen többször koncerteztek már vele, most viszont a korongon is hallhatjuk őt a quartet vendégművészeként. Nagy öröm számomra, hogy Balázs nem a mostanság (sajnos) oly divatossá vált "baseballsapkás-napszemüveges-kapucnis" pop vonalon indult el, annál inkább a modern mainstream felséges vonalát követve írta meg művét! És amit különösen fontosnak tartok, Bágyi óvakodott attól, hogy egy erőltetetten a kínai népzenére hajazó, klisékkel teletűzdelt, közhelyes darabbal rukkoljon elő! Egy vérbeli jazzista "szűrőjén" keresztül ismerhetjük meg a távoli tájakat, aki bármerre jár, akarva-akaratlanul a jazz szemszögéből figyel, tapasztal, rögzít magában.
A magyar jazz koronája újabb ékkővel gazdagodott a Bágyi Balázs New Quartet featuring Li Xiaochuan China Jazz Suit-je által! Induljunk hát kínai túrára Balázzsal és kiváló partnereivel! ~ Gáspár Károly (jazzma.hu)
Bágyi Balázs – dob
Li Xiaochuan – trombita, szárnykürt
Soso Lakatos Sándor – altszaxofon
Oláh Dezső – zongora
Oláh Péter – bőgő
Tracklist:
01 – Quingdao Sky
02 – Storm Above Ningbo
03 – The Dream of the Panda Bear
04 – Forbidden City
05 – Garden of Joy
06 – Tibetian Tales
https://tinyurl.com/yc7v3hc9
Ha kicsomagoláskor jelszót kér, írd be a Zenekucko szót a megfelelő helyre.
Találatok: 2