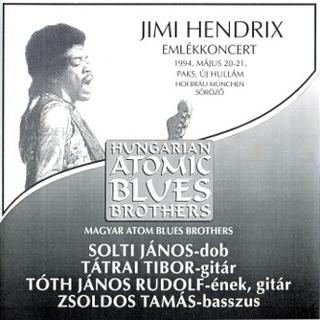 Tátrai Tibor formációja 1994-ben még Magyar Atom Blues Brothers néven alakult meg. Tibusz, Solti János dobossal, Tóth János Rudolf énekes-gitárossal és Zsoldos Tamás basszusgitárossal szövetkezett arra, hogy blues és rhythm & blues örökzöldeket adjon elő a színpadokon.
Ez a bizonyos első album a népszerű paksi fesztiválon rendezett koncert felvételét tartalmazza. Többek között a Wild Thing, a Purple Haze, a Tobacco Road és a Little Wing szólal meg róla, a muzsikusok egyéni interpretációjában. A CD egy az egyben tartalmazza az előadás hangjait, azaz a zenekar nem élt az utólagos javítás lehetőségével, hogy igazán idézni tudja Hendrix koncertjeinek hangulatát.
Tátrai Tibor – gitár
Solti János – dob
Tóth János Rudolf – ének, gitár
Zsoldos Tamás – basszusgitár
Tracklist:
01 – Wild Thing
02 – Purple Haze
03 – Wait Until Tomorrow
04 – Manic Depression
05 – Red House
06 – Who Knows
07 – Foxy Lady
08 – Tobacco Road
09 – Highway Chile
10 – Little Wing
11 – Medley: Power To Love / Message Of Love / Them Changes
12 – Mercedes Benz
13 – Fire
14 – Come On
https://zenekucko.com/matomix
Ha kicsomagoláskor jelszót kér, írd be a Zenekucko szót a megfelelő helyre.
Találatok: 7