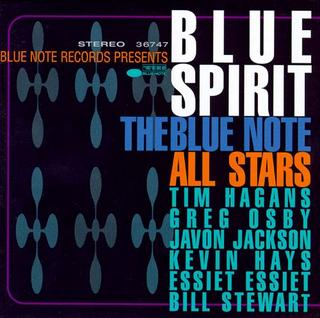 A rövid életű The Blue Note All-Stars 1995 végén állt össze, amikor a WNET nevű rádió riportot szeretett volna készíteni fiatal, feltörekvő zenészekkkel és interjúkat kért a Blue Note művészeivel.
Mivel Tim Hagans trombitás, Javin Jackson tenorszaxofonos, Kevin Hays zongoraművész és Bill Stewart dobos készen állt a feladatra, és együtt eljátszottak néhány dalt (együtt a basszusgitáros Doug Weissrel).
Mivel a zenéjük a vártnál is erősebb volt, a Blue Note-os Bruce Lundvall elrendezte, hogy a zenekar felvételeket készíthessen és koncerteken játsszon. Így felvették a Blue Spirit-et (az egyetlen CD-jüket), és országszerte turnéztak is, mielőtt szétváltak volna útjaik. A csapat a neve ellenére nem régebbi Blue Note klasszikusokat dolgozott fel, hanem eredeti anyagukra koncentráltak. A mű valószínűleg többszöri meghallgatást igényel, csak aztán indul be a "varázslat".
Essiet Essiet – basszusgitár
Greg Osby – altszaxofon
Bill Stewart – dob
Kevin Hays – zongora
Javon Jackson – tenorszaxofon
Tim Hagans – trombita
Tracklist:
01 – Twist And Out
02 – Our Trip
03 – Free Hop
04 – Next Time Not
05 – Think Before You Think
06 – Theodore
07 – Splash
08 – Naaman
09 – Kae
10 – A Caddy For Daddy
https://tinyurl.com/yc7n4p5f
Találatok: 3