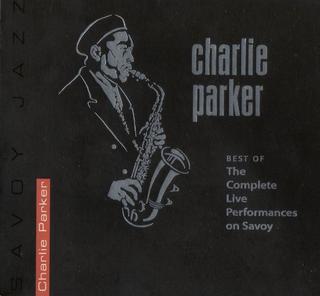 Charles Christopher Parker, Jr. (Kansas City, Kansas, 1920. augusztus 29. – New York, 1955. március 12.) amerikai jazz-szaxofonos, zeneszerző. Az egyik legnagyobb hatású jazz-zenészként tartják számon Louis Armstrong és Duke Ellington mellett. Elismertségét és hírnevét mi sem bizonyíthatja jobban, mint a szakmai kritika hangját megszólaltató Scott Yanow jazz kritikus véleménye: "Parker vitathatatlanul minden idők legnagyobb szaxofonosa volt." Parker vezető szerepet játszott a bebop stílus megalkotásában, amit gyors tempó (többnyire 200-300 BPM között) és a melódia helyett a harmóniára alapozott komplex improvizáció. Parker újszerű megközelítése a melódia-ritmus-harmónia hármashoz, hatalmas befolyással bírt és bír a zenészekre mind a mai napig. Sok szerzeménye vált többször feldolgozott standard zenévé. Szárnyaló, gyors és ritmikailag aszimmetrikus rögtönzései könnyen ámulatba ejthetik azt, aki hallgatja. Mindazonáltal ha közelről vizsgáljuk a játékát hallhatjuk, hogy minden szólója teljes, tudatosan felépített frázis, ahol minden hangnak megvan a maga helye. Számos alkalommal keverte a jazzt más műfajokkal a klasszikus zenétől a latin zenéig, kikövezve az utat a jövő jazz generációinak.
1950-re a jazzvilág nagy része Parker hatása alá került. Sok zenész írta le és másolta a szólóit. 1953-ban Parker koncertet adott a Torontoi Massey Hall-ban Gillespie, Mingus, Bud Powell és Max Roach közreműködésével. Sajnálatos módon a koncert egy időben zajlott Rocky Marciano és Jersey Joe Walcott boxmérkőzésével, emiatt kevesen látták. Szerencsére Mingus felvette a koncertet, és az album Jazz At Massey Hall néven egyike lett a legjobb élő koncerteknek a jazztörténelemben.
Felvételein és a halála után kiadott Charlie Parker Omnibook-on keresztül egyéni stílusa hosszú időre meghatározta –és határozza meg ma is- a jazz zenét. Manapság műveit és ötleteit lejegyzik, tanítják/tanulják, elemzik, így életműve minden jazzt tanuló diák tanulmányában helyet kap.
Ezen a lemezen a Savoy kiadó által rögzített koncertjeinek legjobb pillanatait élhetjük át. 
Tracklist:
01 – 52nd St. Theme
02 – Koko
03 – Hot House
04 – Chasin' the Bird
05 – Little Willie Leaps
06 – East of the Sun
07 – Scrapple from the Apple
08 – Barbados
09 – Groovin' High
10 – Salt Peanuts
11 – Cheryl
12 – Anthropology
13 – Jumpin' with Symphony Sid (Excerpt)
Külön köszönet Nagygazemberimi-nek a lemezért és az eredeti feltöltésért!
https://tinyurl.com/y2nvzwcf
Találatok: 2