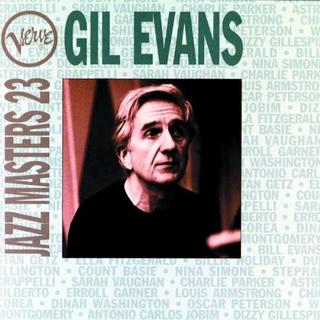 Gil Evans, születési nevén: Ian Ernest Gilmore Green (Toronto, 1912. május 13. – Cuernavaca, 1988. március 20.) kanadai dzsesszzongorista, hangszerelő, zeneszerző, zenekarvezető.
Első zenekarát 1933-ban Kaliforniában alakította meg. A zenekar részére ő csinálta meg a hangszereléseket. Később a népszerű énekes, Skinnay Ennis kísérő zenekarává váltak. Dacára annak, hogy autodidakta volt, zongoristaként és zeneszerzőként a legmagasabb szakmai csúcsokra jutott. Tehetségének legjavát hangszerelőként nyújtotta.
A negyvenes években Claude Thornhill hangszerelője volt, és mellette lehetősége volt különböző hangzásokat és szokatlan zenei megoldásokat kipróbálni. Thornhill világa érdekes zenei műhely volt Evans számára. Ezek döntő befolyással voltak későbbi tevékenységére.
Kedvenc mondása ez volt: a bizonytalanság az örök ifjúság titka.
Tracklist:
1 – Time of the Barracudas [Miles Dewey Davis III-Ian Ernest Gilmore Green aka "Gil Evans"] [1964]
02 – Greensleeves [traditional] [1964]
03 – Last Night when We Were Young [Harold Arlen-E. Y. "Yip" Harburg] [1964]
04 – She's a Carioca [Antonio Carlos Jobim-Vinicius de Moraes-Ray Gilbert] [1965]
05 – Moon and Sand [Alec Wilder-William Engvick-Mortimer Palitz] [1964]
06 – Las Vegas Tango [Ian Ernest Gilmore Green] [1963]
07 – Spoonful [Willie James Dixon] [1964]
08 – Concorde [John Aaron Lewis] [1964]
09 – I Will Wait for You [Michel Legrand-Norman Gimbel-Jacques Demy] [1965]
10 – The Barbara Song [Kurt Weill-Bertolt Brecht] [1964]
Külön köszönet Nagygazemberimi-nek a lemezért és az eredeti feltöltésért!
https://tinyurl.com/y6y487m9
Találatok: 1