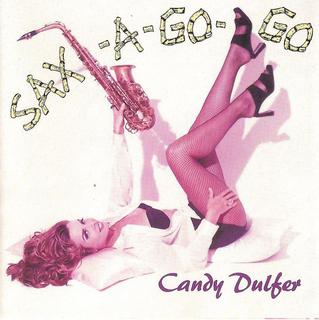 Candy Dulfer holland szaxofonos hét évesen kezdett zenélni, tizennégy éves korában a Funky Stuff zenekar vezetője, 19 éves korától jegyzik a nemzetközi zenei életben.
Húsz éves korától turnézik és olyan művészekkel lép fel (és közreműködik lemezeiken) mint Prince, Dave Stewart (Eurythmics), Van Morrison, Maceo Parker, Beyoncé, Pink Floyd, Chaka Khan, David Sanborn, Larry Graham, Aretha Franklin, Jimmy Cliff, George Duke, Blondie, Jools Holland, Jamie Cullum, Angie Stone, Tower of Power, The Time, Alan Parsons, Fred Wesley, Pee Wee Ellis, Joey DiFrancesco, Jonathan Butler és sokan mások.
A világon már szinte mindenhol bebizonyította, hogy nemcsak remek zenész, de zenekarvezetőként is elsőszámú, nem beszélve fantasztikus külsejéről, ami soha nem hagyja hidegen a férfirajongókat.
A Sax-A-Go-Go című második albuma 1993-ban jelent meg.
Tracklist:
01 – 2 Funky
02 – Sax-A-Go-Go
03 – Mister Marvin
04 – Man In The Desert
05 – Bob's Jazz
06 – Jamming
07 – I Can't Make You Love Me
08 – Pick Up The Pieces
09 – Compared To What
10 – Sunday Afternoon
Külön köszönet TT_1-nek a lemezért és az eredeti feltöltésért!
https://tinyurl.com/y4adfdc2
Találatok: 1