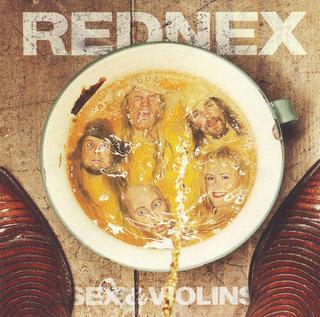 A Rednex négy svéd producer találmánya, akik fejükbe vették, hogy ötvözni fogják a country zenét a 90-es évek elején népszerű technoval. Ők voltak: Janne Ericsson, Örjan Öberg, Pat Reiniz és Brian Reddyb.
A Rednex az 1995-ben megjelent Sex & Violins lemezével letarolta a kontinentális slágerlistákat, biztos mindenki emlékszik a Cotton Eyed Joe-ra és a többi hasonló slágerre.
harmonika – Ari Haatainen & Henrik Widén
bendzsó – Gary Johansson, General Custer, and Kjell Johansson
basszusgitár – Björn Lagberg
dob – Anders Lövmark, Animal, and Heffa
gitár – Anders Hellquist, Boba, Bonne Lövman, Clint Eastwood, and Henrik Jansson
steel gitár – Uffe Sterling
szájharmonika – Ove Sandberg
zongora – Henrik Widén
hegedű – Bosse Nilsson
vokál – Anders Hansson, Annika Ljungberg, Björn Lagberg, Camena, Camilla Molinder, Chris Sylvan Stewart, Cool James, Currey, Göran Danielsson, Hanna Wannagárd, Henrik Widen, Hoss, Janne Ericsson, Jean-Paul Wall, Jeanette Söderholm, Joe Cartwright, Lotten Andersson, Ludde, Michelle Anenberg, Monte Reid, Pat Reiniz, Stefan Cevaco, Sir Een, Thomas Hegert, and Zeb Macahan
síp – Jean-Paul Wall
Tracklist:
01 – Cotton-Eye Joe
02 – Hittin' The Hay
03 – Riding Alone
04 – Wish You Were Here
05 – Mary Lou
06 – Old Pop In An Oak
07 – Nowhere In Idaho
08 – The Sad But True Story Of Ray Mingus
09 – Fat Sally Lee
10 – Shooter
11 – McKenzie Brothers
12 – Rolling Home
13 – Wild And Free
Az albumon található 8. dal Harder Than Your Husband címen is ismert.
Külön köszönet TT_1-nek a lemezért és az eredeti feltöltésért!
https://tinyurl.com/y5sfdhym
Találatok: 4