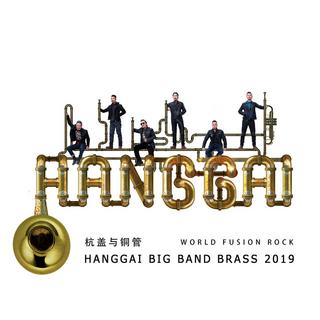 A Hanggai együttes számára az áttörést az jelentette, amikor 2015-ben megnyerték a Sing My Song elnevezésű kínai tévéshow második évadát (ez az amerikai The Voice ottani megfelelője).  Ezt követően már nem egy külvárosi punk-rock banda voltak, akik három akkord pengetésével torokénekelve siránkoznak a hajdanvolt pusztai nomád életmód után, hanem olyan zenészek, akik különféle projektekben igyekeznek kiteljesíteni művészetüket, teszik próbára alkotó energiáikat – s közben egy pillanatra sem felejtik el mongol gyökereiket.
A tévés fellépés után első nekifutásra a klasszikus zenével kerültek közelebbi kapcsolatba, amikor Tan Dun társaságában áthangszerelték és nagyzenekarral előadták pár korábbi dalukat. Fergeteges sikert arattak, köszönhetően az alapban különleges zenei világuknak, amihez bármit hozzátesznek, az csak még egyedibb lesz. Reméljük egyszer lemezen is kiadják ezeket a koncerteket.
Ezután még több lehetőséget és zenei sokszínűséget keresve Ilchi (alapító és énekes) megkérte Jianbo Bi-t (Tan Dun egyik tanítványát), hogy hangszerelje át néhány régi és új dalukat – jazzes rézfúvósokra. Ez a lemez jelent meg idén márciusban, és gyakorlatilag nem lehet betelni vele. A felvételek egyébként az USA-ban készültek, és érződik rajta hogy örömzene, minden résztvevő élvezte a zenei kalandozást, a határok nélküli együtt muzsikálást. A Hanggai zenéjében eddig is egyszerre volt jelen Nyugat (rock) és Kelet (torokéneklés, lófejes hegedű, dallamok, stb.), amihez most hozzá adódik ez jazzföldről szalajtott rezesbanda. A tizenhárom fős fúvósszekciónak köszönhetően gyakorlatilag minden dal új dimenziót kap, és ez a fajta előadásmód messze túlmutat a megszokott akusztikus verziókon. Elvégre itt az eredeti kompozíciókat nem butítják le, hanem ráadnak még egy-két réteg ruhát, amitől még jól felismerhető marad, csak közben sokkal izgalmasabb, vonzóbb lesz. A legszebb az egészben, hogy a fúvósok nem csupán a fellelhető szabad tereket lakják be, nem csak improvizációkkal múlatják az időt, hanem új témákkal egészítik ki az eredeti nótát.
A Big Band Brass 2019 album egy nagyon különleges találkozást örökít meg, méltó folytatása a Hanggai eddigi munkásságának. Szomorkodásra egyedül az ad okot, hogy az idei európai turnéjuknak nincs magyar állomása. Pedig jó lenne megnézni, ahogyan az egy híjján húsz muzsikus felsétál a színpadra és elkezdenek zenélni. ~ Galgóczi Tamás (ekultura.hu)
Tracklist:
01 – 鴻雁 – Hong Yan – The Swan
02 – 丁吉圖灣 – Ding Ji Tu Wan – The Dinjid Bay
03 – 四歲的海騮馬 – Si Sui Di Hai Liu Ma – Four-year-old Hailiu Horse
04 – 古納根烏蘭巴特 – Gu Na Gen Wu Lan Ba Te – Gunagen Ulaan Bataar
05 – 北邊的芨芨草 – Bei Bian De Ji Ji Cao – The Achnatherum Splendens In The North
06 – 花斑馬 – Hua Ban Ma – Horse Of Colors
07 – 約會 – Yue Hui – Dating
08 – 烏仁都希 – Wu Ren Dou Xi – Uran Dush
09 – 戈壁路 – Ge Bi Lu – Gobi Road
10 – 初升的太陽 – Chu Sheng De Tai Yang – The Rising Sun
11 – 喇嘛大叔尋親記 – La Ma Da Shu Xun Qin Ji – Uncle Lama Visiting His Lover
12 – 上海產的半導體 – Shang Hai Chan De Ban Dao Ti – The Shanghai-Made Semiconductor
http://tiny.cc/41a0gz
Ha kicsomagoláskor jelszót kér, írd be a Zenekucko szót a megfelelő helyre.
Találatok: 2