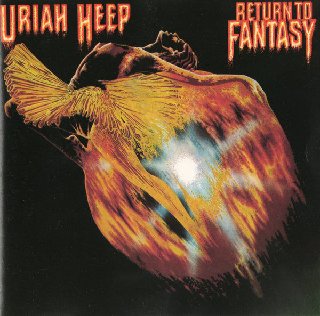 A Uriah Heep egy 1969-ben alakult és máig működő angol hardrock-zenekar. Az együttes a nevét Charles Dickens: Copperfield Dávid című regénye egyik kitalált szereplője után kapta. Angol nyelvterületen kultuszzenekarrá váltak, ahol a Demons and Wizards és a Return to Fantasy albumok bizonyultak a legsikeresebbnek.
Az együttes sajátos hangzásvilágát David Byron éneke mellett Ken Hensley billentyűjátéka is nagyban befolyásolta. A basszusgitár és a dob összjátéka, valamint Box játéka mellett az együttes gyakran használt szokatlan ütemeket, ritmusokat, melyek szintén a korai lemezek némelyik dalában figyelhetőek meg. A korai lemezek ismérvét a dinamikus zene, a fátyolos dallamszerkezet, és a balladisztikus szövegek mellett az együttes fantasy iránti érdeklődése adta, melyek nemcsak a dalszövegekben, de gyakran a lemezborítókon is megjelentek.
David Byron – ének
Mick Box – gitár
Ken Hensley – billentyűk, szintetizátor, gitár, vokál
Lee Kerslake – dob, ütősök, vokál
John Wetton – basszusgitár, mellotron, vokál
Tracklist:
01 – Return To Fantasy
02 – Shady Lady
03 – Devil's Daughter
04 – Beautiful Dream
05 – Prima Donna
06 – Your Turn To Remember
07 – Showdown
08 – Why Did You Go
09 – A Year Or A Day
Külön köszönet TT_1-nek a lemezért és az eredeti feltöltésért!
https://zenekucko.com/urifan
Találatok: 2