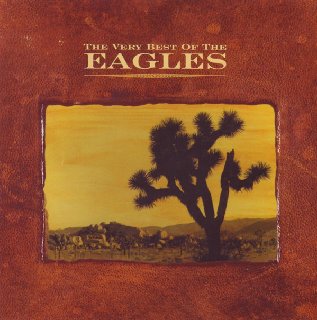 Az Eagles 1971-ben alakult Los Angelesben. Öt listavezető kislemezzel és négy listavezető albummal koruk egyik legsikeresebb együttese volt. A legnagyobb sikert elért albumuk, a Hotel California, bekerült minden idők 500 legjobb zenei felvétele közé, az együttes pedig kivívta magának a 75. helyet, minden idők 100 legnagyszerűbb zenekara között.
Befolyásolva az 1960-as rhythm and blues, soul, bluegrass, és rock zenekaroktól, mint a Byrds és a Buffalo Springfield, az Eagles hangzását úgy jellemezték mint California rock. Sal Manna, a CD jegyzetek szerzője a zenekar 1994-es Hell Freezes Over albumán, megjegyezte, hogy "Senki sem tudta pontosan mit jelent a California rock, kivéve talán annyit, hogy mivel Kaliforniában bármi lehetséges, akkor a zene ami arról az ígéret földjéről jött, szabadabb szellemű és szabadabban szárnyaló". A Rolling Stone úgy írja le az Eagles hangzását mint "country színezetű vokális harmóniák és hard-rock gitár és dalszöveg kombinációját".
Tracklist:
01 – Take It Easy
02 – Witchy Woman
03 – Peaceful Easy Feeling
04 – Doolin-Dalton
05 – Desperado
06 – Tequila Sunrise
07 – Best Of My Love
08 – James Dean
09 – I Can't Tell You Why
10 – Lyin' Eyes
11 – Take It To The Limit
12 – One Of These Nights
13 – Hotel California
14 – New Kid In Town
15 – Life In The Fast Lane
16 – Heartache Tonight
17 – The Long Run
https://zenekucko.com/eagvebeo
Köszönet TT_1-nek a lemezért és az eredeti feltöltésért!
Találatok: 5