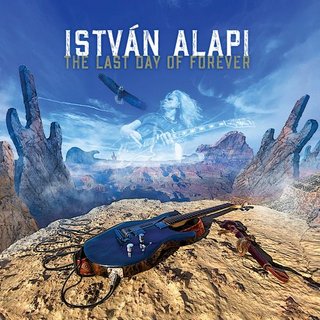 Alapi István december elején jelentette be, hogy új szólóalbumot készített. Ez még nem adna meglepetésre okot, de mint kiderült, most nem a gitár áll majd a középpontban, hanem az énekhang. Ha egészen pontos akarok lenni: az ő énekhangja. Volt már jazz-fusion stílusú szólólemeze nem is egy, a legutóbbi pedig egy gitárközpontú rocklemez volt, de mindig a gitár volt a főszereplő.
Most olyan dalok kellettek, melyekben az ének jut főszerephez, de másfélék, mint amit tőle az EDDA művekben megszokhattunk. Persze a teljes kép ismeretéhez hozzátartozik, hogy ezek a művek nem mind most születtek, István már több éve gyűjtögette az ilyen típusú ötleteit, de úgy érezte, a megfelelő idő most jött el ahhoz, hogy egy énekes szólólemezt készítsen. Az anyag különleges lett, mert az ilyen élethelyzetek, amiben most élünk, különleges, új irányokat mutatnak. Alapi István is rátalált egy új, eddig még járatlan ösvényre és megtette azt a bátor lépést, hogy egy egész lemezt épített köré. ~ Kárpáti Szabolcs (karpatisz), hardrock.hu
Alapi István – ének, szólógitár, basszusgitár, billentyűk
Fekete Sándor – dob
Jeff Leone – vokál
Tracklist:
01 – Two Eyes Blue
02 – The Last Day of Forever
03 – Father
04 – New Kingdom of the Celtic Fire
05 – Tears Beneath the Sun
06 – One Cry Goodbye
07 – My Golden Way
08 – One Life I'd Save
09 – A Sky out of Season
10 – How Will I Know
11 – In the Key of Dreams
12 – Moon River
https://zenekucko.com/aladafo
Ha kicsomagolásnál jelszót kér, írd be a Zenekucko szót a megfelelő helyre.
Találatok: 14