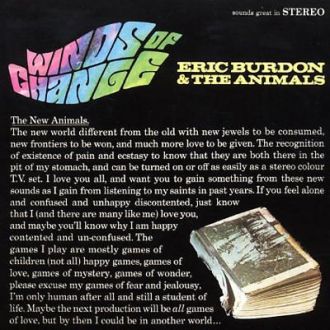 A mélynövésű, hihetetlenül mély torkú Eric Burdon 1941. május 11-én született Newcastle-ban. Fiatalon megfertőzték őt blueszal az Angliába tévedő fekete matrózok és más szerzetek, akiknek a zsákjában mindig ott lapult néhány fekete korong, amire rácsaptak a fiatalok. (Abban az időben a BBC zenei műsorai őskövületek voltak, a szigetországi boltokban is olyan ritka volt az ilyen muzsikát tartalmazó lemez, mint Towerben a fehér holló.)
Alan Price billentyűs rhythm and blues együttesében kezdett 1962-ben, a banda egy évvel később Animals néven folytatta. A fehér zenészek közül elsők között léphetett fel a szigetországban turnézó Sonny Boy Williamson II-vel.
A diadal éve 1964, amikor Alan Price elkészítette az ősrégi The House of The Rising Sun saját változatát, amely azonnal listavezető lett, s azóta is megunhatatlan.
A blues klasszikusok John Lee Hookertől (Boom, Boom, Dimples) Ray Charles-tól (Mess Around, Hallelujah, I Love Her So) Bo Diddleytől (Roadrunner), rock and rollok (Memphis Tennessee, Around and Around) alkották a repertoárt. Később az Inside Looking Out, See, See Rider, Gin House Blues és hasonlókkal kiegészülve. Nevükhöz híven meglehetősen vadállati koncerteket adtak, de mindig a zenén volt a hangsúly.
Nem tudni, hogy belső késztetésre vagy a menedzserek parancsszavára pszichedelikus rockra váltott barátunk. Valószínűleg ő maga kereste a változást, a lelkiállapotát tükrözte a Winds of Change album, a Monterey, a Good Times, a San Franciscan Nights. Ennek bűvöletében lépett fel Monterey-ben, Barátok lettek Jimi Hendrix-szel, akit basszusgitárosa, Chas Chandler fedezett fel. (Kovács Miklós, Harmonet.hu)
Az album Toportyán Féreg gyűjteményéből került a kuckóba.
Kedves Toportyán Féreg, köszönjük szépen! (És merre jársz mostanában?)
A számok:
1. "Winds of Change" (4:00)
2. "Poem by the Sea" (2:15)
3. "Paint It, Black" (6:00)
4. "The Black Plague" (6:05)
5. "Yes I Am Experienced" (3:40)
Side 2
1. "San Franciscan Nights" (3:24)
2. "Man – Woman" (5:25)
3. "Hotel Hell" (4:53)
4. "Good Times" (2:50)
5. "Anything" (3:20)
6. "It's All Meat" (2:05)
Bonus tracks added in 2008
1. "Good Times" (Mono single version) (2:57)
2. "Ain't That So?" (3:24)
3. "San Franciscan Nights" (Mono single version) (3:16)
4. "Greatfully Dead" (3:59)
A zenészek:
Eric Burdon – vocals
Vic Briggs – guitar, piano, arrangements
John Weider – guitar, violin
Danny McCulloch – bass
Barry Jenkins – drums
+
Keith Olsen – stepped in on some tracks to deputise on bass after Danny McCulloch broke his wrist.
https://zenekucko.com/00899
Találatok: 4