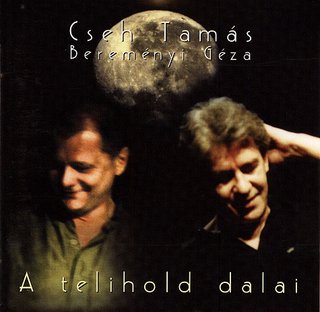 Teliholdkor ezüstös fény önti el Földet, szikráznak a csillagok, vonyítanak a kutyák, s az em­ber megbolondul a feszítő, megmagyarázhatatlan vágyódástól. Teliholdkor angyalok szállnak át a szobán, és ismét dalokat ír Cseh Tamás és Bereményi Géza. Ezek a dalok éppen olyanok, mint húsz, tizenöt vagy tíz évvel ezelőtt, mert a világ megváltozott, de Tamás és Géza nem. A képlet is ugyanaz: Géza kiötli a szándékoltan prózai, a formális logikára fittyet hányó, mégis önvilágot megfogalmazó szövegeket, Tamás megírja hozzájuk és elgitározza, elénekli a néha két-három akkordból álló, három- és négynegyedes ütemű, nosztalgikus vagy ironikus dalocs­kákat, s ebből kikerekedik valami, ami olyan, mint az élet, a Magyar Élet, éppen mindig.
Valaha, amikor a sorok között kellett írni meg olvasni, nagy dolog volt Cseh Tamásnak lenni, és most, amikor már se írni, se olvasni nem kell tudni ahhoz, hogy valaki Mercedessel járjon, ismét az lehet. A jelbeszéd persze mindig rejtelmesebb és izgalmasabb a szókimon­dásnál, de mit csináljon Tamás és Géza, ha ez a világ(unk) már csak így alakul, hogy jönnek a pénzügyesek meg a kék páviánok, és nem tudni, hogy a marha magyar szavazó mivel megy be a fülkébe (idézet nélkül, tőlük). A telihold dalaiban ott van a régi, kádári és az új, "rend­szerváltó" időket élő Géza és Tamás, ott a nemzedéki mitológia és ott van mindaz, amit ők ketten, immár keményen és direktben, a csillagok mai állásáról gondolnak. Szép új (magyar) világ(kép). ~ Turi Gábor, Hajdú-bihari Napló, 1997
Cseh Tamás – ének, gitár
Gallai Péter – billentyűs hangszerek
Németh Gábor – dob
Herr Attila – basszusgitár
Móricz Mihály – gitár
Horváth József – akusztikus gitárok, lambura
Ágoston Béla – szaxofon, basszusklarinét, dorombének
Bóna János – hegedű
Bükky Mátyás – hegedű
Bogáti László – mélyhegedű
Belej Ferenc – cselló
Gacsó Gabriella – fuvola, piccolo
Péterdi Péter – klarinét, furulya
Tama Krisztina – fagott
Zsirmon Zsolt – trombita
Hoffer Tibor – harsona
Szilágyi Levente – trombita
Borbély Mihály – szaxofon
Gryllus Dániel – duda
Bolya Dániel – kaval
Eredics Gábor – tangóharmónika
Major Gábor – ütőhangszer
Kiss Ferenc – hegedű, koboz, tekerőlant
Lázár Zsigmond – hegedű
Zomboriné Pánczél Anikó – vokál
Pechán Kornél – vokál
Tala Gábor – vokál
Viszló István – vokál
Tracklist:
01 – Ima
02 – A telihold dala
03 – A képek dala
04 – Demokrácia
05 – A parkett ördöge
06 – Volt egy időszak…
07 – Holdkalap
08 – Tóth Mariann
09 – A fiú dala
10 – Pénzügyesek
11 – Szerelmes dal
12 – Ismeretelméleti tétel
13 – Kék páviánok
14 – Széna tér
15 – Mélyduma keringő
16 – Sámándal
17 – Népdal IV.
18 – Ágyő
https://zenekucko.com/csetateda
Ha kicsomagolásnál jelszót kér, írd be a Zenekucko szót a megfelelő helyre.
Találatok: 29