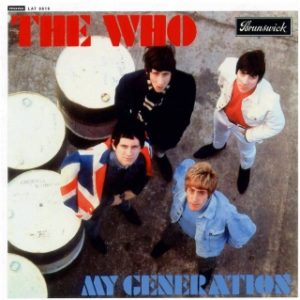 Az 1001 Albums You Must Hear Before You Die (1001 lemez, amit hallanod kell, mielőtt meghalsz) sorozat ötvenkilencedik (59) lemeze a brit The Who bemutatkozó albuma. 
Az angol The Who együttes 1964-ben alakult, tagjai Pete Townsend gitáros, énekes, Roger Daltrey énekes, John Entwistle basszusgitáros és Keith Moon dobos voltak. Az iskolatársak egyébként különböző neveken 1962 óta zenéltek együtt. Két menedzser (Kit Lambert és Chris Stamp) felfigyelt rájuk, és precízen megalkotta az együttes rosszfiús imidzsét. A zenekar dalai hamar népszerűvé váltak.
A zenekart a hard rock egyik legnagyobb úttörőjének és a könnyűzene egyik legbefolyásosabb együttesének tartják, dinamikus koncertjeik megelőlegezték a stadion rockot, nyers korai korszakuk a punkot (gyakran nevezik őket "A punk nagyapjainak"), és kései art korszakuk a rocktörténelem első rockoperáját szülte (Tommy, 1969). My Generation című daluk egy korszak fiatalságának lett a himnusza, a mod életstílus megéneklése.
Bemutatkozó albumuk számai:
01 Out In The Street
02 I Don't Mind
03 The Good's Gone
04 La La La Lies
05 Much Too Much
06 My Generation
07 The Kids Are Alright
08 Please, Please, Please
09 It's Not True
10 I'm A Man
11 A Legal Matter
12 The Ox
https://zenekucko.com/00712
Találatok: 6