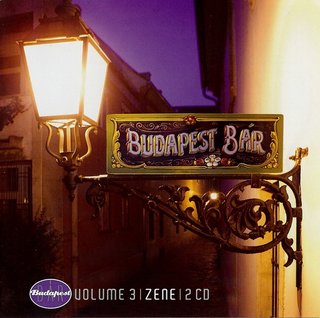 Piazzollától Jimi Hendrixen át Seress Rezsőig, cigányzenészektől skót zongoristán át brazil gitárosig, Magyarországról New Yorkon át Argentínáig. Ezen a lemezen azoknak az utazásoknak a lenyomata hallható, amelyeket a Budapest Bár tagjai az elmúlt években tettek.
Az utazások során a zenei élmények mellett nagyszerű muzsikusokat ismertek meg, akikhez egy-egy zeneszerző, egy-egy stílus, egy-egy dal kapcsolódott. Ezek a találkozások hozták létre a lemezen szereplő különleges egyveleget. A brazil samba és bossa nova ritmusok a zenekarvezető Farkas Robi brazíliai útját idézik, az argentín tangók és Piazzolla fantasztikus darabjai a Buenos Aires-ben eltöltött heteket. Robi itt tudta meg ottani hegedűtanárától – aki Astor Piazzolla zenekarában is játszott a 70-es években -, hogy az argentín tangóra a Dél-Amerikába kivándorló magyar cigányok játékmódja is hatással volt.
Mazz elhozta kedvenc dallamait New Yorkból, Ökrös Karcsi az időben utazik nagyszerű bárzongora futamaival, Misi régi darabokat varázsol maivá nagyszerű hangszerelése által, a magyar és külföldi zeneszerzők által feldolgozott cigány dallamok pedig régmúlt idők utazásainak és szellemi kalandozásainak állítanak emléket.
A Budapest Bár tehát két CD-re válogatta szét ezt a sokszínű anyagot: az első könnyedebb, akár egy házibuliban is felrakható lemez lett, a második pedig elmélyültebb hallgatásra, zenei élvezetre alkalmas.
A Budapest Bár tagjai – Farkas Róbert (hegedű, gitár), Farkas Mihály (cimbalom), Ökrös Károly (harmonika, zongora), Farkas Richárd (bőgő). Mazz (USA – hegedű, ének) – mellett a lemezen vendégként szerepel még Brain Kellock (UK – zongora), Jõao Egashira (BRA – gitár), Szakcsi Lakatos Béla (zongora), Frenk (dob), Ferenczi György (ének, szájharmonika) és Illés Ferenc
(gitár).
Tracklist:
CD1:
01 – Meseautó 2.
02 – Deed I Do
03 – I've Got The Right To Sing The Blues
04 – Még néhány perc és éjfélt üt az óra
05 – Milongueando en el 40
06 – What A Difference A Day Made
07 – Gloomy Sunday – Szomorú vasárnap
08 – Gee Baby
09 – It Ain't Necessarily So (Porgy and Bess)
10 – Luiza
11 – Chega de Saudade
12 – Little Wing
13 – Kaszárnya, kaszárnya
CD2:
01 – Milonga del Angel
02 – Escualo
03 – Gypsy rondo
04 – Hullámzó Balaton
05 – Repülj fecském
06 – Think Again
07 – Gymnopedie No 1.
08 – Salute to Bach
09 – Kiskece lányom
10 – Zigeunerweisen
11 – Carinhoso
https://zenekucko.com/bubav3ze
Ha kicsomagolásnál jelszót kér, írd be a Zenekucko szót a megfelelő helyre.
Találatok: 15