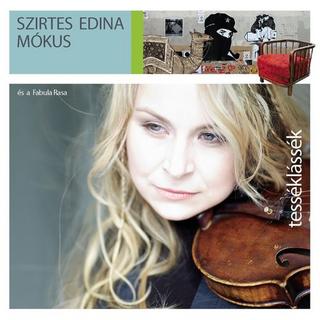 Szirtes Edina "Mókust" a világzene kedvelők számára nem kell bemutatni. Sokoldalú muzsikus: amellett, hogy sokféle stílusban mozog otthonosan, sikerült megőriznie saját egyéni hangzásvilágát úgy énekhangjában, mint hegedűjátékában. Több kiállításhoz, színházi darabhoz készített egyéni hangvételű kompozíciókat. Első, Tesséklássék című lemezén, saját szerzeményein keresztül mutatja be világát, természetesen nem cáfolva meg a világzenei vonulatot. Szirtes Edina Mókus, a szakma – és egyre szélesebb rajongói tábora körében is rendkívül népszerű, amely köszönhető zenei képzettségén kívül magával ragadó egyéniségének is. A lemez 2010-ben Fonogram-díjat kapott "Az év hazai világzenei albuma" kategóriában.
Szirtes Edina Mókus – ének, hegedű, zongora
Balogh Guszti – ének, szájbőgő
Varga Kornél – gitár, baglama
Cserta Balázs – tárogató, szoprán szaxofon, basszus klarinét, furulya
Földes Gábor – nagybőgő, basszusgitár
Kertész Ákos – dob, ütőhangszerek
Vendégek:
Bartók József (Csík zenekar) – nagybőgő
Barcza Zsolt (Csík zenekar) – cimbalom
Kunos Tamás (Csík zenekar) – brácsa
Alan Burton – ír duda
Sárik Péter – zongora
Tracklist:
01 – Pogány köszöntő
02 – Fázik a szívben az aranyág
03 – Istenem (km. Csík zenekar)
04 – Egyedül
05 – Népdal
06 – Nem tudja azt senki
07 – Vagyok árva
08 – Arabella viszontagságai
09 – A por
10 – Álmodoztató vágy
11 – Virágok, sej virágok
12 – Csindratta
13 – Botlás
14 – Égajtó
https://zenekucko.com/szetess
Ha kicsomagolásnál jelszót kér, írd be a Zenekucko szót a megfelelő helyre.
Találatok: 6