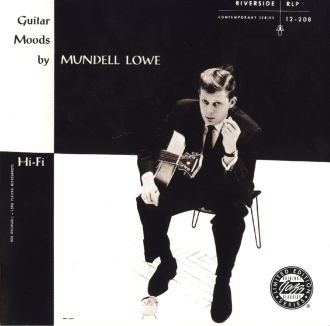 Mundell Lowe (1922-2017) hatesztendős korában kezdett gitározni, majd hét évvel később a Mississippi állambeli Laurelben lévő otthonát elhagyva a Louisiana állambeli New Orleansbe ment. Sokat hallott és tanult a város klubjaiban, amíg baptista lelkész édesapja megtalálta és hazavitte.
Hamarosan újra megpróbálkozott a zenével, Nashville-be látogatott, ahol a Pee Wee King bandben játszott. Ismét hazatérve 1940-ben érettségizett, és rögtön csatlakozott a Jan Savitt bandhez. Besorozták katonának és egy New Orleans közeli táborban teljesített szolgálatot. Egy közeli egységnél John Hammond volt a szórakoztatásügyi tiszt, és ez a találkozás nagyban segített neki abban, hogy a második világháború befejezése után megalapozza zenei karrierjét.
Hammond bemutatta Ray McKinleynek, aki a háború után a Glenn Miller Orchestrát vezette, majd ezután a gitáros Benny Goodmannel, Wardell Grayjel, Fats Navarróval és Red Norvóval és más vezető jazzmuzsikusokkal játszott. A negyvenes évek végén, az ötvenes évek elején többnyire New Yorkban, klubokban dolgozott, lemezfelvételeket készített, a legfigyelemreméltóbb zenészek armadájával szerepelt, így Lester Young, Buck Clayton, Charlie Parker és Billie Holiday társaságában.
Az ötvenes években az NBC stúdiózenekarában dolgozott, a televíziós Today show zeneigazgatója volt, fellépett a Broadway-n, folytatta fellépéseit, lemezfelvételeit olyan jól ismert jazzmuzsikusokkal, mint Georgie Auld, Ruby Braff, Ben Webster, Carmen McRae és Harold Ashby. 1965 óta Los Angelesben élt, változatlanul dolgozott televíziós és rádiós műsorokban, film- és televíziós zenéket írt, aktív tanár volt, ám legaktívabb napjaiban is szorított időt a lemezfelvételekre olyan művészekkel, mint Sammy Davis Jnr., Tony Bennett, Bill Berry, Richie Kamuca és sokan mások.
A nyolcvanas évek elején megalakította Transitwest nevű kisegyüttesét, amelyben Sam Most, Monty Budwig és Nick Ceroli játszottak és amely az 1983-as Monterey Jazz Fesztiválon mutatkozott be. Szelíden elegáns játékos, hideg, ám lüktető savinggel. Játéka a jazzgitár nagy hagyományait követi, repertoárja jazz- és popstandardokból áll, amelyek nüanszait nagyon sokszor csak ő hozza ki. A 12 hangú skálával való kísérletezése a jazzgitár fejlődésének élvonalában helyezi el. (passzio.hu)
01. Speak Low
02. We'll Be Together Again
03. Memories Of You
04. Ill Wind
05. You Don't Know What Love Is
06. I Dream Too Much
07. June In January
08. I'll Take Romance
09. It's So Peaceful In The Country
10. Our Waltz
11. I'm Old Fashioned
12. Goodbye
Mundell Lowe – Guitar
Trigger Alpert – Bass (1 to 9, 11, 12)
Ed Shaughnessy -Drums (1 to 9, 11, 12)
Al Klink – Flute (4,9, bass clarinet (1)
Phil Bodner – Oboe (3), English horn (6,7,12)
Recorded at Van Gelder's Studio, Hackensack, NJ; February 20, March 2 and 9, 1956.
https://zenekucko.com/07407
Találatok: 42