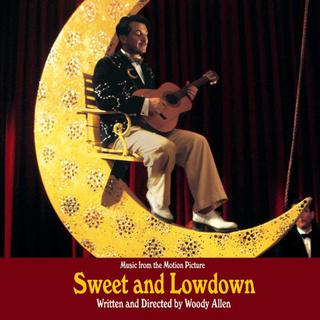 A Sweet and Lowdown (A világ második legjobb gitárosa) egy 1999-es amerikai filmvígjáték Woody Allen rendezésében. A film egy az 1930-as években élt, kitalált jazzgitáros, Emmet Ray (Sean Penn) történetét meséli el, áldokumentumfilmes eszközökkel.
Amerika, harmincas évek: tombol a jazz. Emmet Ray, a gitárvirtuóz igazi laza fazon. Imádja az éjszakai életet, az ivászatokat, kártyacsatákat és a nőket, szereti bámulgatni a mozdonyokat, és legfőbb hobbija éjjelente patkányokra lövöldözni. Emellett a világ legjobb gitárosának tartja magát. Illetve a második legjobbnak. Eszményképe, a cigány származású Django Reinhardt muzsikájának hallatán a szó szoros értelmében elájul… Woody Allen kitalált zenészlegendájának kalandos életét és rejtélyes eltűnését maga a rendező idézi föl – a legkiválóbb jazztörténészek társaságában, sőt olykor velük feleselgetve. A film két szereplőjét (Pennt, és Samantha Mortont) is Oscar-díjra jelölték alakításáért. A film zenéjét Dick Hyman szerezte, míg Howard Alden játszotta a gitárszólókat. Alden volt az is, aki felkészítette Pennt a film gitározós jeleneteire.
Tracklist:
01 – I'll see you in my Dreams
02 – Caravan
03 – Sweet Georgia Brown
04 – Unfaithful Woman
05 – Viper Mad
06 – Wrap Your Troubles In Dreams
07 – Old-Fashioned Love
08 – Limehouse Blues
09 – Justa Gigolo
10 – 3:00 AM Blues
11 – All Of Me
12 – It Don't Mean a Thing (If It Ain't Got That Swing)
13 – Shine
14 – I'm Forever Blowing Bubbles
15 – There'll be Some Changes Made
Külön köszönet Nagygazemberimi-nek a lemezért és az eredeti feltöltésért!
https://tinyurl.com/y5ayuspm
Találatok: 4